The weekend is coming…do you have Date Night plans yet?  No worries, WDW Parkhoppers are here to help.  Each Thursday, we will suggest a GREAT night of fun and magic you and your significant other can share in and enjoy around Walt Disney World Resort.
This week, we will be enjoying the  A Stroll on the Boadwalk.

 Preparations:
Dining Reservations at Flying Fish or Trattoria al Forno in Disney's Boardwalk Resort for 7:30 pm. (Trattoria al Forno is less expensive, but Flying Fish is a GREAT place for a celebratory date night)
Dress appropriately for the restaurant you have chosen.  Flying Fish tends to be a little upper scale in dress.
Disney passes or park tickets are NOT required for this evening.
How It Works:
1.  Arrive at Disney's Boardwalk at 6:15-6:30 pm.  Tell the Security Officer that you are there for dinner.  And if you have a Tables in Wonderland Card, you can valet park for free.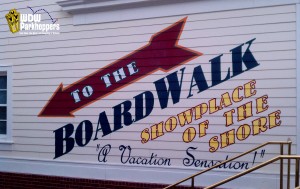 2.  Don't walk into the Resort, instead take a slight right and head down stairs… you can't miss the sign.
3.  One you arrive, head towards the water and you are ON the wooden Boardwalk. Take a left and head to Big River Grille and Brewing Company.
4.  You can sit at the bar and enjoy a cocktail and appetizer.  We suggest a beer sampler, it's a great (and economical) way to sample all the brewing company has to offer.
5.  At around 7:00, head right out of Big River Grille towards the Flying Fish and Trattoria al Forno.
6.  In the evenings, the Boardwalk comes alive with street entertainers.  If you time it correctly, you should be able to watch one of the shows before dinner.  And then another after you eat!  If the entertainment is not performing, you can visit Wyland Galleries, featuring several pieces of art, and some with a Disney flair!  The entertainment and the art gallery at 100% free!!
7.   After the entertainment or the art gallery, it's time for DINNER!  Check in to Trattoria al Forno or Flying Fish.  We love both places, but it really depends on how much you want to spend on dinner.
8.  After you finish your dinner, you can choose to enjoy dessert in either restaurant, and trust us, they BOTH have awesome offerings! But for a real treat, head over to AbracadaBar .  It's located right next to Trattoria al Forno .  There you can grab a magical elixir to make your night even more magical!
9.  After desert you can head over to Jellyrolls, a piano bar with dueling pianos and audience sing-alongs for guests 21 years and up.  It's fun, but it can get a little bawdy.  BE WARNED!!  Or you can chose to head over to the Atlantic Dance Hall, it features bands and DJs and caters to the younger side of guests 21 and up.
If neither of those options sound appealing, you can always to choose to take a walk around Crescent Lake, and visit Disney's Swan or Dolphin Hotels, or Disney's Yacht or Beach Club Resorts.  All these places are fun and interesting to just walk around and enjoy!
Let Us Know How It Goes
We hope that you enjoy your evening at Disney's Boardwalk Resort  but remember, this is only a guideline, based off of evenings we have tried over the years…you change it however you want, but please let us know what you did and how it worked for you.
But above all, enjoy your evening spent together in the world's most magical place, and we will see you next week for an all new Disney Date Night Idea!
Comments
comments